Spa Packages
Our founder has hand-selected skilled and knowledgeable staff with experience and empathy. Years of service have achieved an environment where each unique client receives personalized treatments, selected to restore balance and health on a personal level. Find your perfect package and leave refreshed and renewed.
A luxurious combination that includes your choice of body exfoliation, a body wrap and a 60 minute aromatherapy massage.
$290 2.5 hours
With Bliss Facial $425 4 hours
A ginger and juniper warming wrap and a 60 minute deep tissue massage.
Essential or Flash Spa Package
Essential Spa Package includes an oasis essential facial and a 60 minute essential massage.
Flash Spa Package includes a flash facial and flash essential massage.
Essential -2 Hours $210 | Flash 1 hour $140
An Oasis-slim body wrap and a 60 minute detoxifying aromatherapy massage.
CBD (Cannabidiol) Deep Relaxation Wrap & Facial or Massage Package
Includes a CBD facial or massage & CBD body wrap
2 hours $250 CBD massage & CBD body wrap
1.5 hours $225 CBD facial & CBD body wrap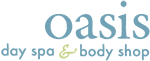 221 Carlton Rd Ste 5
Charlottesville, VA 22902
434-244-9667
Tuesday: 9am – 7pm
Wednesday: 9am – 6pm
Thursday: 9am – 7pm
Friday: 9am – 6pm
Saturday: 9am – 5pm
Oasis Day Spa & Body Shop is rated 4.8 out of 5 based on approximately 80 reviews from around the Web.
Be the first to know about our sales, in-store events and promotions.  Subscribe and receive exclusive offers!