Facial Treatments
Discover our exclusive facials and corrective facial treatments in our convenient Charlottesville location. Licensed and exceptionally trained estheticians will initially evaluate your skin, consult closely with you, and masterfully customize a treatment to achieve and fulfill your skincare goals and needs.
Our estheticians use exclusive Yonka®, Dr. Dennis Gross®, Color Up®, and Skin Therapeutic® products for your facial treatments.
All facials are customized to suit your skin type & your skin's needs
Our signature facial that includes deep pore double cleansing, an exfoliating micropeel, extractions, therapeutic massage, individualized mask, toning and hydration.
Sensitivity Essential Facial– gentle cleansing, gentle exfoliation (skin permitting), therapeutic massage, anti-inflammatory hydrating mask and calming moisturizer.
Men's Essential Facial– adjusted to address men's specific needs: razor bumps, ingrown hairs, and related inflammation due to shaving or deep cleansing & nourishing treatments for men with facial hair. Hydrates, soothes, firms, tones, and protects the skin.
Bliss Facial – a deluxe essential facial with an intensive eye treatment, and softening treatments for your hands & feet.
Flash Facial– deep pore double cleansing, an exfoliating micropeel, treatment mask and hydration for an instant glow. 30 minutes
Essential 1 Hour $115 |Bliss 1.5 hours $160 | Flash 30 minutes $85
Utilizing an advanced modality this facial treatment simultaneously deep cleanses, extracts, exfoliates & infuses the skin with hydrating serums & boosters for the ultimate in skin rejuvenation.
This facial treatment is oriented towards physical exfoliation using a blade to eliminate dead skin cell build-up; it also removes fine vellus hair from your face. Promotes smoother skin & facilitates deep product penetration. The 60-minute facial includes a double cleanse, secondary exfoliation, a deluxe custom treatment mask & facial massage. The 30-minute facial includes a double cleanse & a nourishing finishing treatment.
1 Hour $135 | 30 minutes $95
CBD (Cannabidiol) Herbal Facial
A powerful yet subtle nano-infusion facial that works to reduce inflammation, calm, nourish, and soothe the skin. CBD (Cannabidiol) has notable anti-bacterial & anti-inflammatory properties & stimulates skin rejuvenation.
1 Hour $125 | w/ CBD body wrap 1.5 hours $225
The essential facial with extra deep cleansing, extensive extractions, post-extraction anti-bacterial oxygenating treatment, purifying massage & treatment mask.
Flash Purity– an abbreviated Purity Facial, particularly beneficial for teenage or acne-prone skin. 45 minutes
1 Hour $125 | 45 minutes $105
A high-performance holistic facial to address the needs of mature skin. Includes a double exfoliation, stimulating anti-aging massage techniques, and a cellular treatment mask.
Dr. Dennis Gross Peel Facial
A dermatologist-developed AHA/BHA facial peel treatment that helps correct acne and breakouts, improves skin complexion, and diminishes the appearance of fine lines and wrinkles.
1 Hour…with an intense Hydra mask $135 | 30 Minutes $105 | series of 6 – 30 minute peels $525
Resurfacing/Brightening Peel Facial
Deep pore cleansing and a potent AHA and/or BHA acid exfoliation that allows a mixture of nutrients to awaken, smooth, nourish, and brighten your complexion. AHAs & BHAs are customized for your skin type & pertinent skin conditions.
1 Hour $135 | 30 minutes $105 | series of 6 – 30 minute peels $525
A restorative facial to treat dehydration and bring balance to your skin with a soft gel peel exfoliation, nourishing massage and double-hydration mask.
Custom Advanced Technology Add-Ons (custom peels, LED, dermaplane, diamond microdermabrasion, radiofrequency skin tightening, microcurrent) $50 added to facial treatment fee | 15 minutes
Intensive Eye Treatment Mask $15
The essential facial adjusted to treat your back area.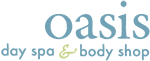 221 Carlton Rd Ste 5
Charlottesville, VA 22902
434-244-9667
Tuesday: 9am – 7pm
Wednesday: 9am – 6pm
Thursday: 9am – 7pm
Friday: 9am – 6pm
Saturday: 9am – 5pm
Oasis Day Spa & Body Shop is rated 4.8 out of 5 based on approximately 80 reviews from around the Web.
Be the first to know about our sales, in-store events and promotions.  Subscribe and receive exclusive offers!