Body Treatments
Pamper yourself with our nourishing body treatments formulated with nature's most potent ingredients designed to exfoliate, moisturize, tone, and detoxify.
Your body is briskly polished with a freshly mixed sea salt, seaweed and aromatherapy blend leaving your skin as smooth as silk… a seriously liberating rub down.
Freshly harvested brown and red seaweed is micronized and essential oils are added to detoxify, remineralize, refine and hydrate the skin.
A thorough exfoliating treatment with a coconut and almond oil-infused sugar mulch to condition and smooth.
Exfoliation, slimming cream and mask with mineral-rich healing mud essential oils for a purifying, contouring treatment.
An effective blend of essential oils and skin conditioners combined with gentle warmth…promotes the breakdown of fat tissue, stimulates circulation and eliminates toxins and excess fluids. Visibly firms, tones and slims.
Robust body exfoliation and gentle facial exfoliation followed by self-tanner application.
Ginger & Juniper Warm Wrap
A warming blend of pure essential oils, skin conditioners and arnica oil…a soothing therapy for over-exerted muscles and a moisturizing treatment for dry, parched skin.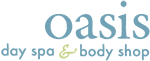 221 Carlton Rd Ste 5
Charlottesville, VA 22902
434-244-9667
Monday: 11am – 4pm
Tuesday: 9am – 7pm
Wednesday: 9am – 6pm
Thursday: 9am – 7pm
Friday: 9am – 6pm
Saturday: 9am – 5pm
Oasis Day Spa & Body Shop is rated 4.6 out of 5 based on approximately 70 reviews from around the Web.
Showing 1 to 10 of 70 entries
Next »
Be the first to know about our sales, in-store events and promotions.  Subscribe and receive exclusive offers!